Duratec® Airline Pipe System / Bendable Pipe
Click to Enlarge
Duratec® Airline Pipe System / Bendable Pipe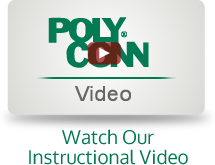 Polyconn's Duratec® Airline Pipe System is a new way to deliver air power from your compressor to your pneumatic machines, tools and implements. Duratec® Airline Pipe is a unique flexible airline system that offers a number of advantages over standard pneumatic airline setups. It is ideal for any application, including pneumatic hand tool operation, manual and automated welding operations, robotic installations, valve actuation control systems, and many more.
With traditional copper or iron pipe pneumatic pipe systems, you're limited to roughly 10' pipe lengths which need soldered or fittings between each segment. Airline placement can make soldering difficult, and fitting installation can be a time-consuming process. And, each one of your soldered or fittings creates a potential leak point, reducing the power that your pneumatic equipment receives.
Using Polyconn's Duratec® Airline Pipe System will save you time and money with a fast, easy installation process and no fitting or soldering supply costs. Typical pneumatic pipe systems need at least four fittings or soldered joints to go around an obstacle—a structural I-beam, for example. The bendable pipe used in our Duratec® system can be easily bent by hand to go over, under or around any obstructions, and will hold these bends for the life of the system.